How can you use Google My Business listing to improve your business visibility online as a local business? The purpose of this article is to assist the local business person to get listed on Google's business listing directory.
This is regardless of whether you have a brick and mortar business or not. This is a practical guide that will work you through all you have to do to get this done.
Why is listing on Google My Business Important?
Google my business (GMB) listing is one of the largest online business directories in the world. Getting listed on this directory exposes your products and services to potential clients looking for you online.
In fact, business listings when available for particular keywords are typically above search results popularly called position zero. A Google My Business profile helps with local search positioning online and is a veritable tool for local SEO. This solidifies your online presence beyond your business website. GMB is a good starting point for your local SEO efforts.
With a GMB profile, users can easily find your business, visitors call you instead of shopping with another business. A snapshot of your business profile will appear at the top of Google listing. It will guarantee more clicks to your website's URL especially on mobile devices (phone) and ultimately increase in search traffic.
This is the whole idea of dominating local search on Google. A classic display of your business on top of the search engine listing is a good one. This comes with the pecks of the display of your business reviews, address, website position, and map location.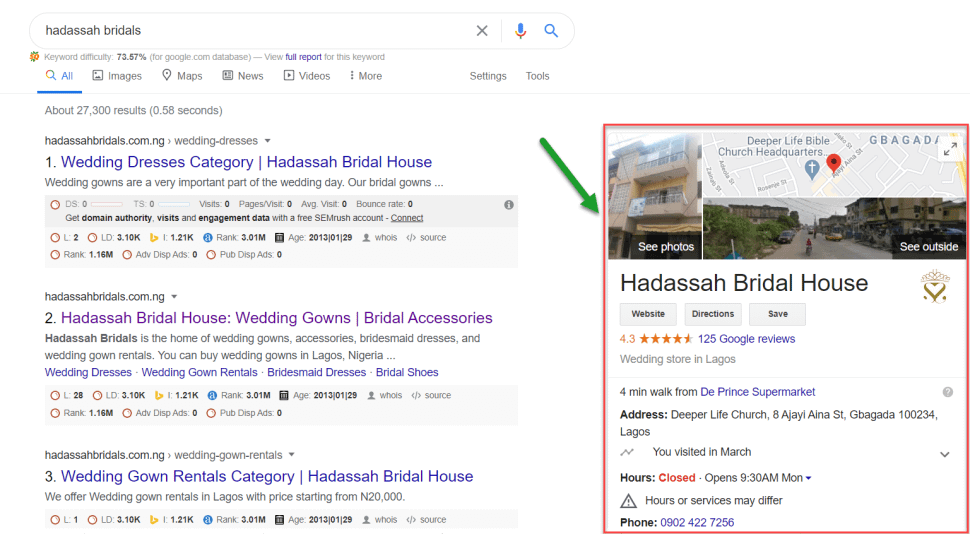 It showcases your business, what makes it unique, and your special offerings for potential clients. There are over 3.5 million daily searches on Google daily, and 18% leading to a product or service purchase. With your business displayed on GMB, you can gain a significant chunk of product purchases in your niche.
Do you have to pay to get listed on Google My Business?
Getting listed on Google My Business is completely free and you don't have to pay to keep your listing on the business directory. I guess today is your lucky day right? It is a way for Google to map local businesses in an area in order to improve users' search experiences.
What do I need to register on Google My Business?
Now that you understand the significance of GMB, let's focus on how to get you listed. The process is straightforward. If you have a Gmail account, it is even easier. Open your business or personal Gmail account and toggle on the icon to the top right, close to your name icon.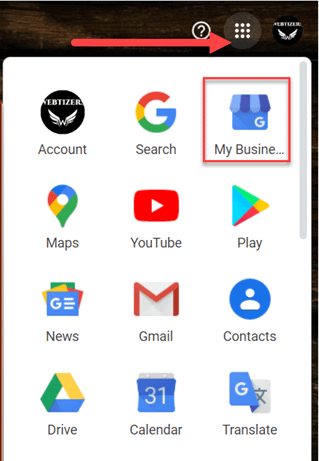 With the toggle down, you will see the google my business icon colored blue and labeled appropriately. With the click starts our journey to getting listed on GMB. Alternatively, a search on Google will pop out a link that will take you to the GMB's registrations landing page.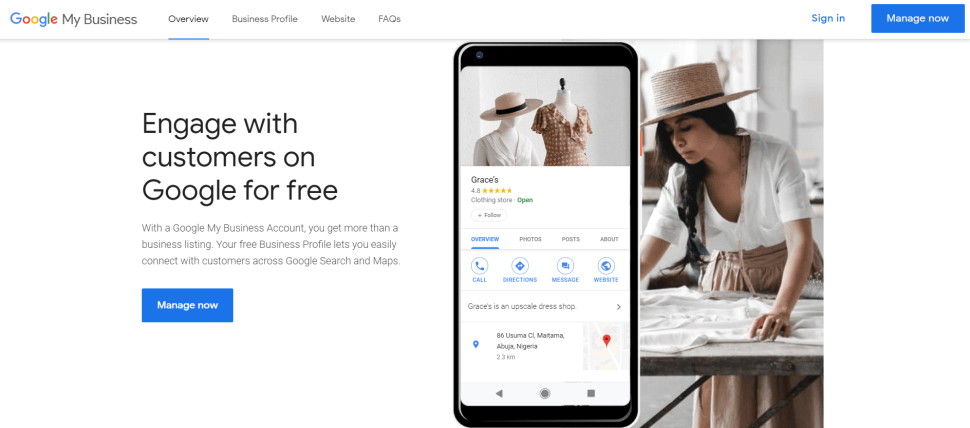 You will see the sign in or register button to the right top corner of the page. I will encourage you to quickly open a Gmail account if you don't have one already. What do you need for your Google my business listing on GMB?
Before you start your registration, I would suggest you get the following items ready:
1. Your business name. This shouldn't be a surprise, right?
2. Your business address: If you have a physical location, this is great. Otherwise, if you work from home, you may want to leave this out.
3. Your business contact phone number.
4. Your business logo: This is important to give your business the authority feel and look that boosts customers' confidence.
5. A beautifully designed banner for your business listing page header. Make sure this is properly designed to be attractive to your potential clients.
6. Other pictures you may want to share with your clients.
The first 3 items are what referred to as NAP that is your Name, Address, and Number. Tim Capper did a good post on this on SEMRushWe can make some progress if you already have these items handy.
How do I register on Google My Business?
1. Go to Google my business through Gmail and click on the GMB button as shown above. When you get to the page, you'll see a display as shown below.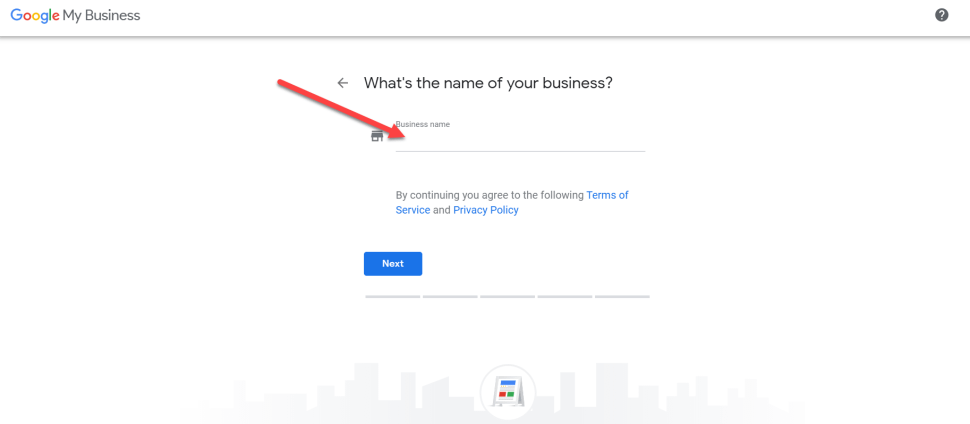 Your optimization starts here. Your business name. Ensure that your business name is the same as what you have on other local directories. This will give credibility to your listing.
Don't make the mistake of being inconsistent with your name. It waters down the power of your brand. Check your Facebook page name and other local listings to see that the names used are consistent with your business name on GMB.
This helps build your reputation and doesn't confuse your customers.
Next, you are prompted to choose your category. Every step of your registration is important for your survival online. Choose an appropriate business category for your business.
If you're not sure, go to Google search and type in the name of some local competitors. Then check their category listings. Hurray! You can also list in the same category.

If you think you've made the wrong choice of category, don't worry. You will always have the opportunity to correct it when you finish your registration.
The next page is very critical. That is the choice of whether you want your business to be listed on Google Maps.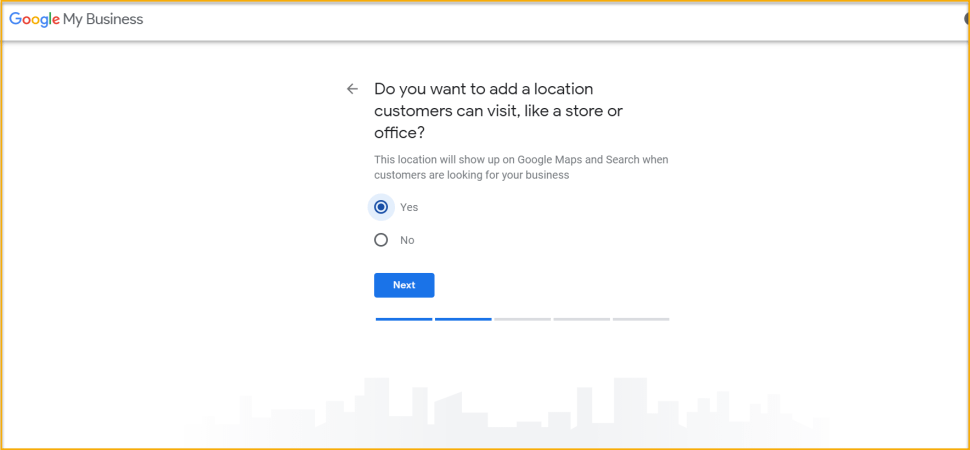 If you are a brick and mortar business, I would wonder why you would not want your business listed. This is a powerful tool to get seen by your clients. Most people use Google maps to locate services near them these days. Your listing on Google map is a great optimization for your business if you have a physical location.
In fact, if you don't claim your business on Google map, others may take advantage of it to divert your clients.
Another advantage of Google Map listing is that it helps your clients to easily locate you. If you provide services at the customers' location, you may want to skip this option.
Also, if you run your business from your house and wouldn't want visitors. You can also choose one here.
You have an opportunity here to also state if you provide services outside of your location or not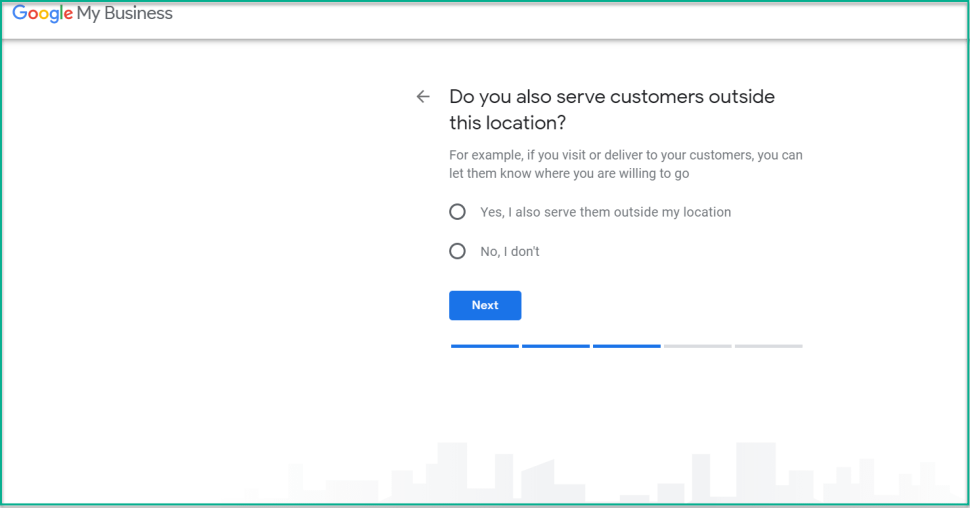 State your address as accurately a possible. You don't want to mislead your clients when they need to find you.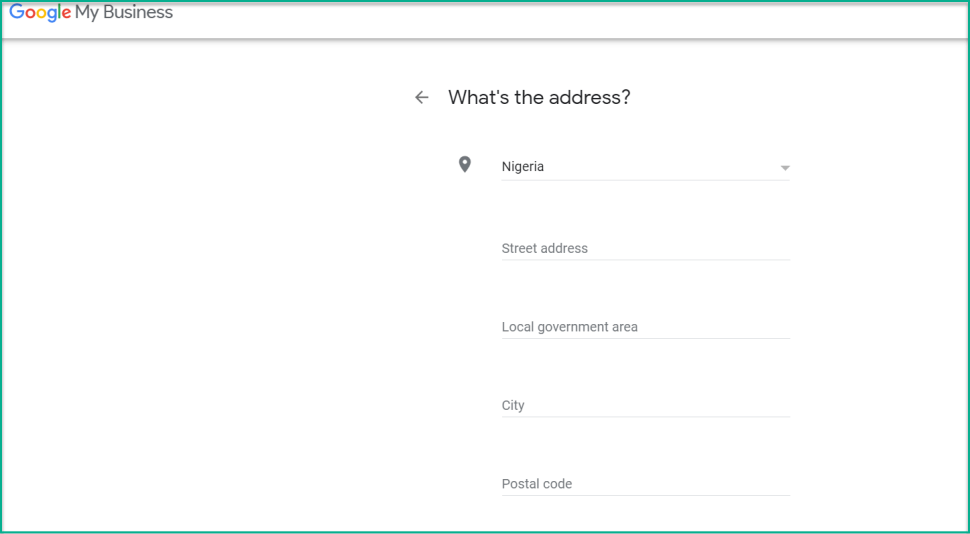 Tell Google the other areas you serve. It will boost your listing in those territories too!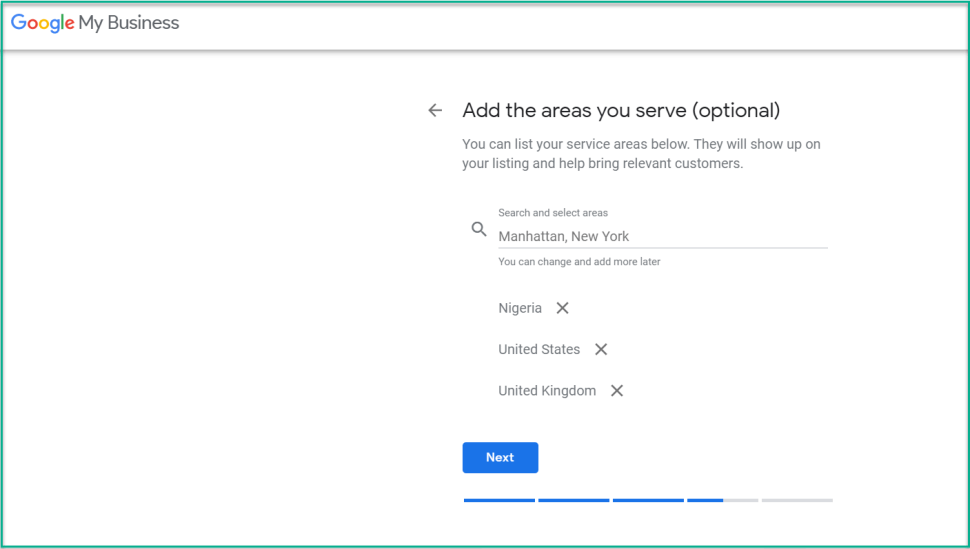 Remember N. A. P. which represents your business name, address, and phone number? We have so far dealt with the first two; your business name and address.
At this point, you have two other important information to get your Google My Business listing optimized for local searches. First is your business phone number. I really wouldn't know why you won't have one if your business is legit.
You also have a big opportunity to use GMB to boost organic traffic to your website. Use Google My Business listing to showcase your website to your client. I sincerely don't know the reason a local business wouldn't have a website. You can reach out to me to get one anyways!
On the other hand, you can proceed to GMB and create a business website on Google. The difference is that you have to make do with the little customization you find on Google. This isn't a bad place to start anyways.
When done, you're closer to the finish line.
How Do I verify Google My Business Listing?
Without verification, your listing would not be live on the search engine. Google provides two ways to verify your listing.
The first is with a phone call. Google will forward a set of numbers to the registered phone number. This to me is the simplest way to get verified.
The alternative is to allow Google to send a mail with the code to your physical address. This may take a while depending on the efficiency of your country's mailing system.
How to Optimize your Google My Business Listing?
Although I have mentioned some of the critical optimization steps in previous sections, we need to do some further optimization.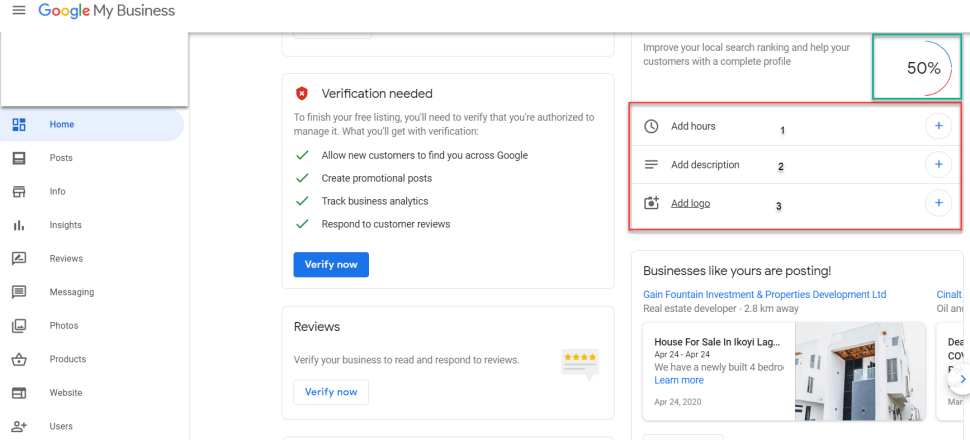 When done with the initial registration, you will land on your listings backend. As you can see from the green box in the image below, we are only 50% through. Here you have the opportunity to do the following:
1. Update your business opening hours.
2. Provide a detailed description of your company, products, and services. Sell yourself and what you do. If you don't, nobody would. Optimize for your major keywords here!
3. Upload your business logo. This will give a lot of confidence to your clients and boost your brand popularity.
These first 3 items are crucial. This information can be found on the home page of your listing.
Other opportunities for optimization of your listing can be found in the info menu tab. Here, you should fill the following information:
A comprehensive list of your products and services.
Photos of your business premises and products.
Business opening date. Let's customers know how long you've been in the business.
You can then proceed to the reviews' menu to share your listing link with your customers. Ask them to provide you with reviews of your services.
There is an ongoing debate on the usefulness of reviews to your listings ranking. Google ranks your listing based on distance, relevance, and prominence. It plays largely into the relevance factor. Also, the content of the review matters. It is a great social proof for your business. Get it anyways!
This is already a very long guide. But I called it the ultimate guide. If you need to power your posting, focus on doing the following regularly:
Add new photos weekly. Let your picture content be fresh.
Create new Google posts. This will help Google know you're active.
Respond to Google reviews. The active conversation shows how responsive you are. Engage your customers using Google review.
Answer all Q&A. This is part of the engagement process. Don't let your response take too long before coming.
There are more optimization steps you can use to boost your listing. We provide such services at Webtizers.