Keyword targeting
is an essential component of search engine optimization. In order to get it right, you must first define the motive why you want to embark on the campaign. In this article, the following will be discussed:
What is

keyword targeting

?

How do you define the keyword intent?

What tools do you require to do keyword Analysis?

How can you steal your competitor's keywords?

How do you optimize your identified words?
What is keyword targeting?
Keyword targeting is the process of identifying a particular, relevant word with the strategy to ensure that you rank for such words on search engines. In order to achieve this aim, you must conduct analysis probably using proper keyword research services or you do it yourself. Also, identify what the search intent is, and how to outrank your competitors for the same.
This process starts with you. Imagine you are the client intending to use a product or service, what would you type into the search engine? This process starts with you. As a first step, create a set of words you would type into Google.
How do you define the keyword intent?
Clients use different search words at different stages of their journey to a product purchase. It signifies the mindset of the customer during their phase of searching for the right product or service to fill a need.
This is an important part of your targeting process and it must be understood in order to achieve your aim. This is at the sole of achieving your aim. There are four main types of
keyword intents
and I will describe them below:
 Commercial "high intent" intent

 Informational intent

 Transactional intent

 Navigational intent
Commercial high intent keywords:
Starts with words like "buy", 'deals', 'free shipping' to mention a few. These are words that clients type in the search engine when they are ready to purchase a product. This marks the end of their purchase journey. These keywords are usually competitive howbeit, with high search volumes. For example, see the research for the keyword "
buy iPhone 11
"

The yellow rectangle shows a total search volume of 1,600 with over 1.9B search results. This is highly competitive and may be daunting to rank for it.
The purple box shows a keyword difficulty of 78%. Meaning it will take a lot to beat the competition using this term. Commercial bid for it is at 100 percent! All these said it doesn't mean you can't go ahead and target this term.
Informational intent keywords
These search terms are used by people who are still in the valley of decision. Searchers are trying to understand the how and what of the product. Such search words start with "What is", "How cab", "Where can I", "Which is the" etc.
Your content here should provide as much as possible information about the product. The only way to be competitive here is to provide more useful information.
At times, you may be required to write longer content and properly optimize your intended term. Longtail keywords typically come into play at this stage. You can easily outrank content on the 1st page of Google for these kinds of words.
Proper research of what they are doing well or rich snippets may be of help. It also depends on how competitive the niche is.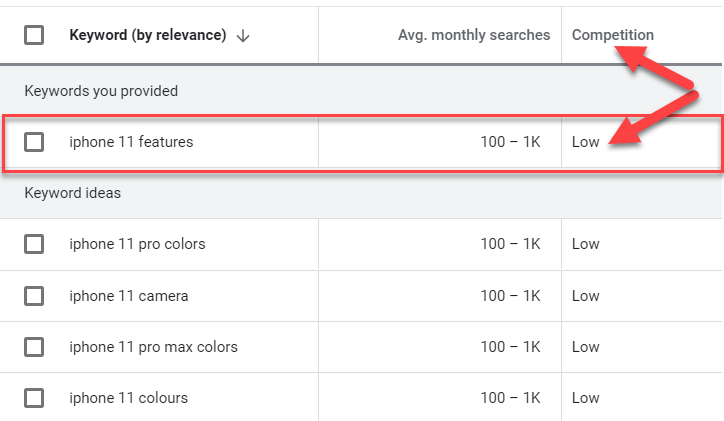 General words like the one above show that the customer is trying to know more about the product. Although the search volume is low, the competition is very low and with good content, you probably can rank for it.
Transactional intent keywords
These terms are used midway between decision and information seeking. They include words like 'best…', 'review', 'Top 5…' etc. They can provide insights on consumers' preferences about the product.
They indicate that the customer is trying to locate where the product is sold. Words like "where can I", 'stores for iPhone near me" etc.
Having sorted out the issue of intent, it's time to do proper keyword research. Gather a few related keywords around your interest and type it into your search engine of preference.
What tools do you require to do keyword research?
Your starting point is the search engine. Type your keyword there and you will observe that there's a dropdown that shows you a number of related keywords. These are known as the "auto-complete keywords"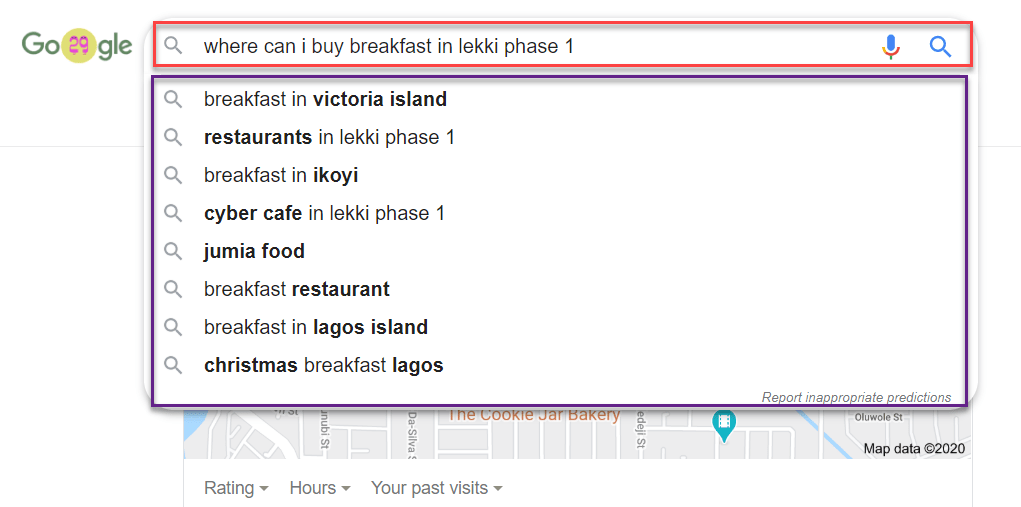 The main search term is shown in red while the autocomplete term is shown in the purple box above. The autocomplete words are related search words that potential searchers would use. It can also be found at the bottom of the 1st page of the search engine.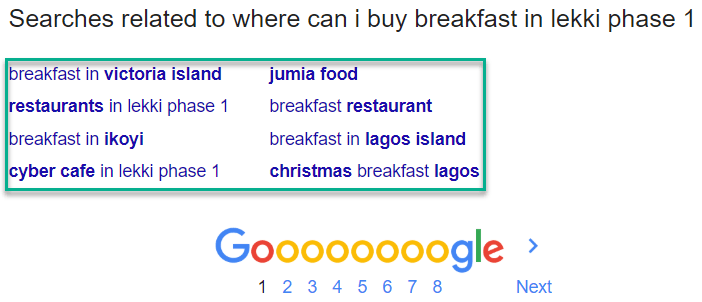 Always pay attention to these keywords.
Other free tools you can consider include:
Google keyword planner: Although this is a good tool, over time, Google has kept back some information on search volumes and competition.
Keyword.io tool: This is a fantastic tool for generating several keywords for your campaign.
Ubersuggest.io
: This is a fantastic tool by Neil Patel. It was free for research until the last month or so. Do check it out.
SEMRush Keyword
Review tool: This is one of my go-to tools for research. It was used for the research shown above. You can see the keyword difficulty metric, volume, competition, and trend over time.
Google Trend
: Although free, this is one of the best tools to understand the current relevance of a search term.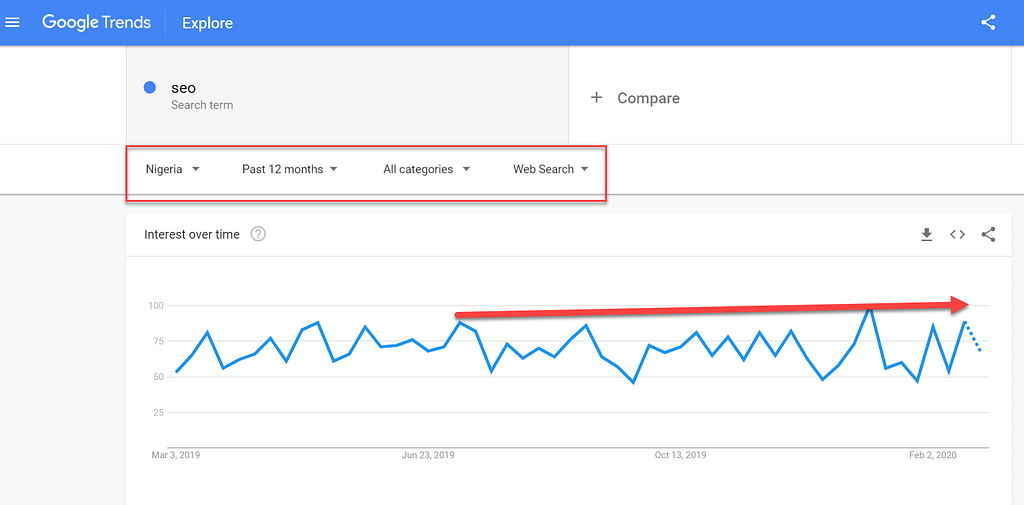 The trend shows that for the keyword "
SEO
", the search has been steady in the lastb12 months in Nigeria. This tool assists in localizing your research while looking at recent trends.
How can you steal your competitors' keywords?
This is a critical step in the keyword targeting process. You need to check in the search term for the top 5 to 10 listings on the first page. Check for weak contents, the contexts, the length, layout, and structure of the contents.
Know what type of content they used in ranking for the keyword and consider ways you can beat them to it with better content. If there are local listings, then it's time to implement local search optimization using Google My Business listing and Google maps.
You should implement rich snippets for the keyword with very good content.