Are you about starting out with SEO thinking about keyword analysis?
Have you thought about how to start? Maybe you have even been told that the beginning of SEO is keyword analysis. You are in the right direction.
Search engine optimization is the process of deploying the right strategy to get your website ranking improved in search engines. This would improve your brand visibility and lead to increased sales for your business.
A keyword analysis is an essential part of this strategy. In this post, I intend to show you a practical guide to doing keyword research for your website's SEO effort. I will address the following issues:
1. What are keywords?
2. What do you need to do keyword research?
3. How do you do keyword analysis?
When we are done addressing these issues, you would have gained a major head start with your keyword analysis efforts.
Fasten your seat belts and let's take a dive.
What are keywords?
Think for a moment about what you do when you are looking for a certain item on the search engine like Google. Typically, you type a set of words related to the query you have in mind.
This is exactly what we all do when type words on the search engine. Search engines use keywords to match billions of websites to your question. Sophisticated algorithms work in the background to make this happen.
Keywords are words that connect the customer's intent, your website, and the search engines.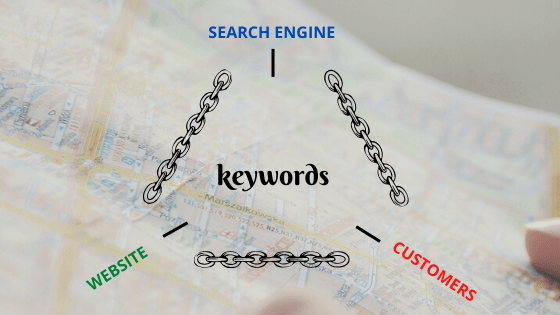 Do you see how important keywords are? Without them, your website, the search engines and your potential customers can't see each other. This communication is the basis of survival for any online business.
There are mainly two types of keywords based on your customer's search intent. These are transactional keywords and informational keywords. Don't worry, I will break this down in a bit.
Transactional keywords are words used by the customers when they want to make a purchase. Such customers are not in the valley of decision rather, they are ready to commit their money to a product or service.
As a business owner, these are my favorite typeS of keywords because they put money in your pocket.
Transactional keywords include words like buy….., discount…., …sales, promo…, where can I purchase…, just to mention a few. These keywords most times have low search volumes but high conversion rates.
The second category of keywords is those we call information-seeking keywords. As the name implies, they are used when the customer is seeking information about a product or service.
They usually come in the form of questions like; what is the best…., review of …., learn, how-to, etc.
These keywords have large search volumes but hardly convert immediately.
How do you do keyword analysis?
It's quite simple. Just follow the following steps.
Start with generic words related to your niche
For example, if you own an e-commerce website selling bridal products. Some starting keywords may include bridal, wedding gowns, bridal wears, bridal shoes, wedding shopping to mention a few.
Get your seed keywords and type it in Google. The search box will show you some suggestions which are keywords other users online have used to search for similar interests. These are called similar searches.
These keywords have high search volumes and have been used by other people searching for the same items. Populate them in an excel sheet. At the bottom of Google search page for a particular seed word, you will see other trending suggestions by Google listed too.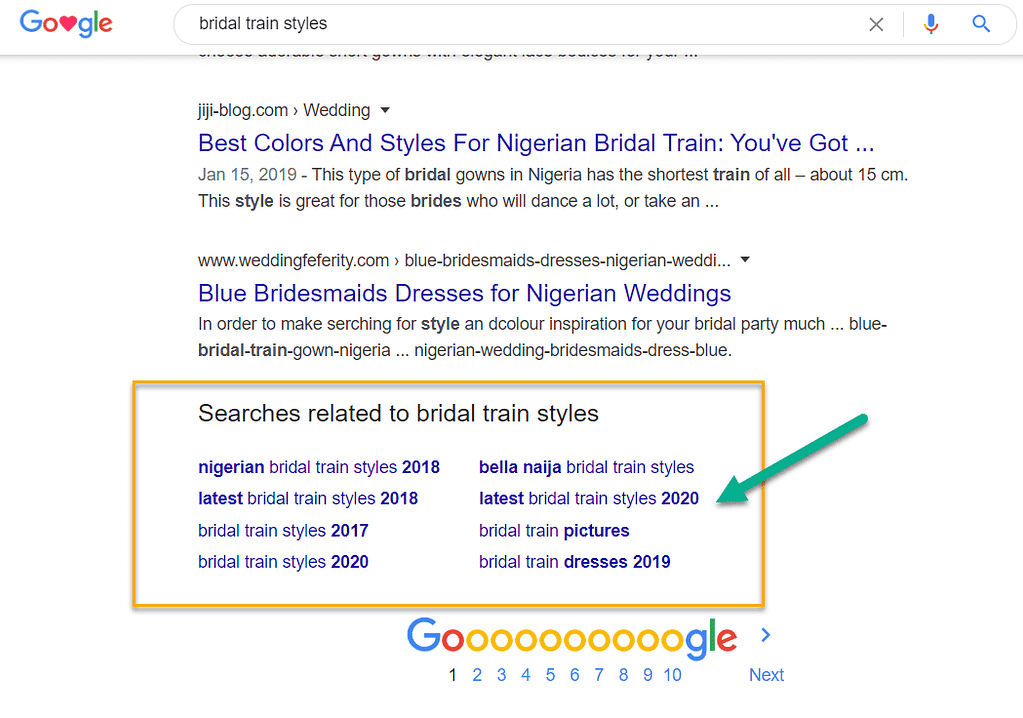 At this stage, you should have a sizable number of keywords for your website's optimization. You can proceed to the next phase of this journey…
Google Keyword Planner
Go to Googe and search for Google's keyword analysis tool called Google keyword finder.

From the planner tool, you can either choose to discover new keywords or get the search metrics for a set of keywords. At the exploratory stage, I suggest you start with the discovery part of the tool.
Next, plug in the seed keywords where the red arrow is pointing to in the image above. If you have a model website, you can type it into the area indicated by the green arrow.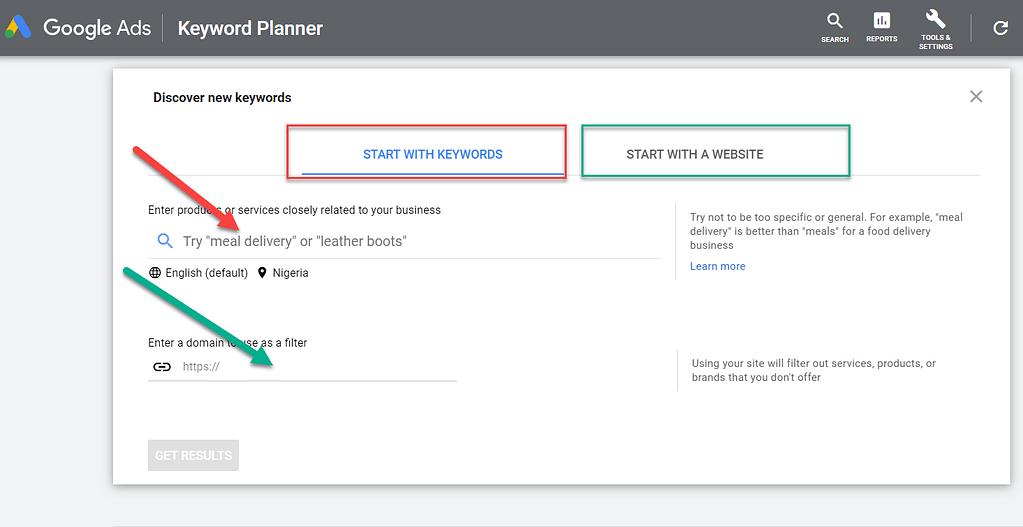 The magic then begins…
How to get more keywords with Google Adword Planner
Google keyword planner will provide you with a set of metrics that will guide your decision of choosing keywords for your website or content. From the image below, the green box represents the search metrics for your seed keywords. The keyword planner takes this a step further. It provides you with several other keyword ideas that you may want to rank your content for.
The two most important metrics for a start are the search volume and competition.
The search volume lets you know the viability of the keyword. Pay attention to this volume. Most gurus will suggest you choose high search volume but low competition keywords…
Those getting results would suggest… understand the keyword intent, filter with intent, and make your choice.
High volumes and low competition keywords may attract the wrong traffic to your website. This means, your conversion rate may be unattractive.
Buyers' keywords are long tail keywords with relatively low search volumes. Be on the lookout for those in this category with low competition. When you find one, you have discovered a gem in the mud.
The second metric which I have mentioned in the keyword competition. It shows how HOT the keyword is! If you are just starting out or you are a small player, try to target low competition keywords. That way you don't get to swim with the sharks!
This is a good starting point for your research.
Other Keyword Analysis Software
Over time, Google has become stingy with data. You don't get to see exact search volumes again. Rather, you will see in the volume metrics, a range of values. This makes it difficult to know exactly what the search volume for a particular keyword is.
There are other good keyword research tools that can help solve some of these problems. A few of them are paid. After all, nothing good comes cheap!
Some software on the paid side but with free trials include:
1. KWFinder:
This has been in the market for a while and gives you very solid metrics to support your research. You should definitely give it a trial. I particularly like the keyword difficulty metrics which also show you your chance of ranking for the keyword.
2. Long TailPro:
This is one of my go-to cloud-based keyword research software if you are interested in killing it in this space. Long Tail keywords are high converting keywords with dependable buy intent. I suggest you use them if you are in the niche marketing or affiliate marketing domain.
This tool is one of my favorites. The extensive database is about the second or third best. Although a bit pricey if you are just starting out. 'Semrush' provides you with also a free option when you register with them. I have enjoyed using this software for a lot of my clients.
4. SEO PowerSuite Rank Tracker:
This is a desktop paid software with an initial payment and a continuous subscription model. It is a keyword analysis software I use myself. It provides you with an array of keyword analysis options. This includes Google autocomplete, website competitor keyword GAP analysis, Keyword mapping to different pages, etc.
5. Bing Webmaster Keyword Research Tool:
In case you don't know, Bing controls bout 10% of global searches. They also have a powerful keyword research tool that is completely free. You should avail yourself of this tool.
6. Ahrefs:
This is arguably the most robust keyword research tool on the market. The Keyword Explorer by Ahrefs boasts of millions of keywords in their database. Although it is paid, it is worth the quids. You can take the 7 days, 7 dollars trial version. You will thank me later for it.
With keyword analysis completed, proper care must be taken to ensure you optimize your pages appropriately without keyword stuffing.
In conclusion, organic traffic is a function of relevant content blended with the right keyword sets. This will ensure that search engines rank you for the right words.
You can reach out to us for comprehensive keyword research services and other SEO services.